UNFORTUNATELLY WE  HAD TO DECIDE TO CANCEL THE EVENT DUE TO COVID-19. WE ARE LOOKING FOR A NEW DATE IN 2022. SORRY FOR THE INCONVENIENCE. - TEAM WIJNHUIS.AMSTERDAM.

TRINKFLUSS: OUR ANNUAL TASTING WITH WINEMAKERS
With harvests finished, it's finally time for our big annual tasting: TRINKFLUSS, on Sunday November 21st. Location: A-Factorij in Amsterdam Zuid, from 14:00/2PM to 18/6PM. Together with our friends of Fiasco and Vinum Naturale, who will be pouring stunning French and Italian gems, we'll turn this former bicycle factory into a spectacular tasting room.
There will be 100+ wines open for tasting – all organic, biodynamic and/or natural. You can pre-order a ticket for €12,50 or purchase one at the entrance for €15  - which will be refunded if you place an order for 12  bottles of wine that day. The number of spots available for is limited, so we strongly advise you to pre-order or send us an email to register in advance!
PRE-ORDER YOUR TRINKFLUSS TICKET HERE!
or... RESERVE TICKETS PER EMAIL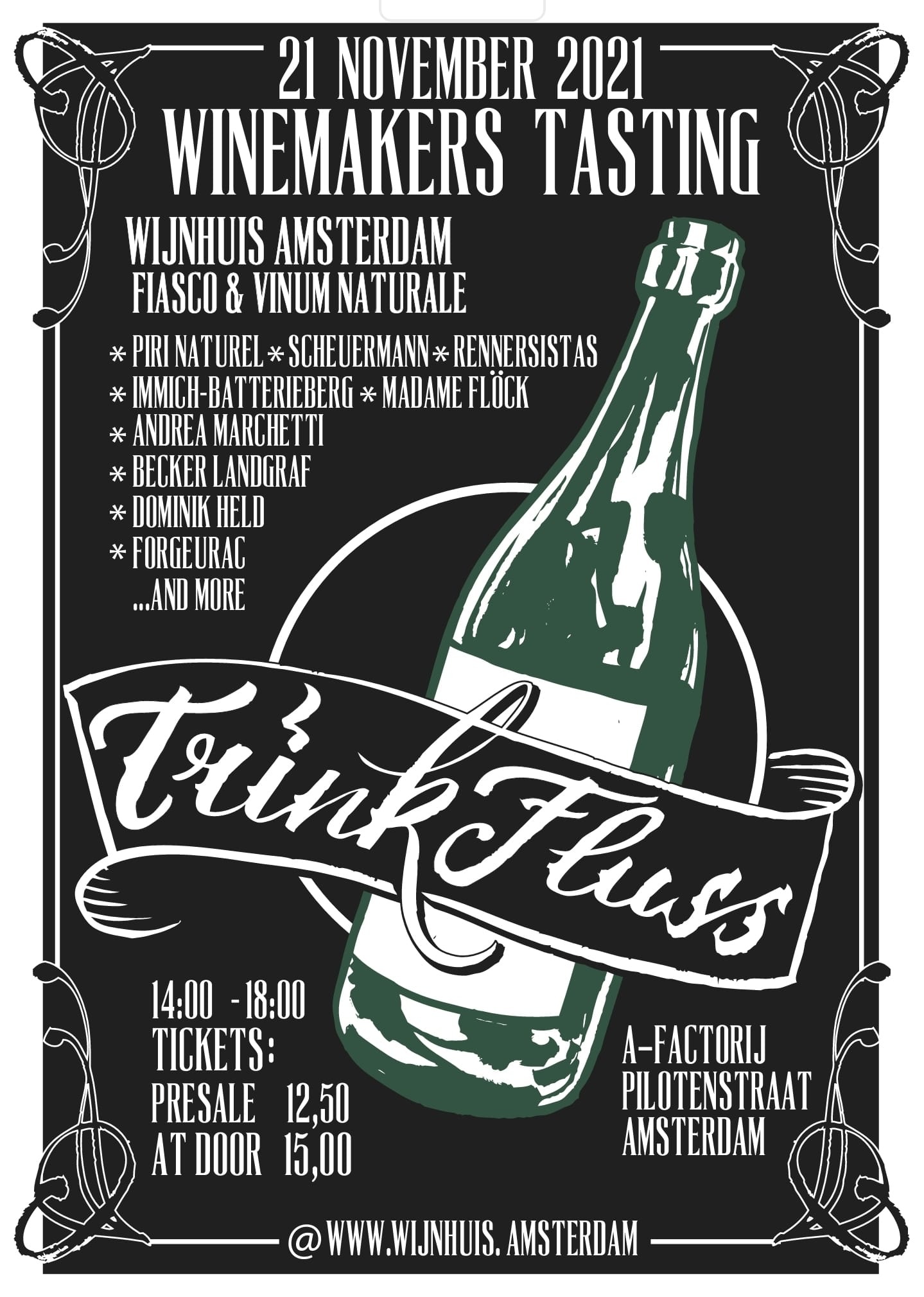 WHICH WINEMAKERS WILL BE THERE ON THE 21ST?
    Piri Naturel, Christine Pieroth (Nahe, Germany)
    Scheuermann, Gabriel Scheuermann (Pfalz, Germany)
    Becker Landgraf, Johannes Landgraf (Rheinhessen, Germany)
    Rennersistas, Georg Renner (Burgenland, Austria)
    Forgeurac, Uwe Lange (Baden, Germany)
    Immich-Batterieberg, Gernot Kollmann (Mosel, Germany)
    Madame Flöck, Derek Labelle & Robert Kane (Mosel, Germany)
    And a couple other names, which will be announced very, very soon!


AND THAT'S NOT ALL, THERE'S DINNER AFTERWARDS!
After the grand tasting at the A-Factorij, we'll move to Restaurant Olympic in the Olympic Hotel, IJsbaanpad 12. There, the chef will prepare a special 5-course menu, to be paired with wines from and stories by our producers - an occasion like no other to get to know the people behind the wines.
It is advisable to be quick with your reservation: there are only 25 spots for the dinner. A ticket, including the full menu and wine pairing, costs €75. Dinner will start at  19:30/7:30PM. If you want to join, let us know ASAP. Should you want to stay the night, there are rooms available in the hotel.
YES, I'D LIKE TO JOIN THE WINEMAKERS DINNER!
SEE YOU NOVEMBER 21ST, DON'T MISS OUT!
TRINKFLUSS LOCATION
A-Factorij
Pilotenstraat
1059 BP Amsterdam
We follow the Dutch Government's rules with regards to COVID-19