After a long hunt, we've finally added a producer from Baden, Germany's southernmost and warmest wine region, to our portfolio. Ina Luisa Wihler is a young winemaker from Ihringen, a town overlooked by the terraced slopes of the volcanic-origin Kaiserstuhl range. Here, in the hills just beside the Schwarzwald, she works in harmony with nature to produce spectacular low-intervention wines. She farms her 2.5 hectares of vines organically, employing biodynamic practices, focusing resolutely  on quality-driven, holistic viticulture and expressing the Kaiserstuhl terroir.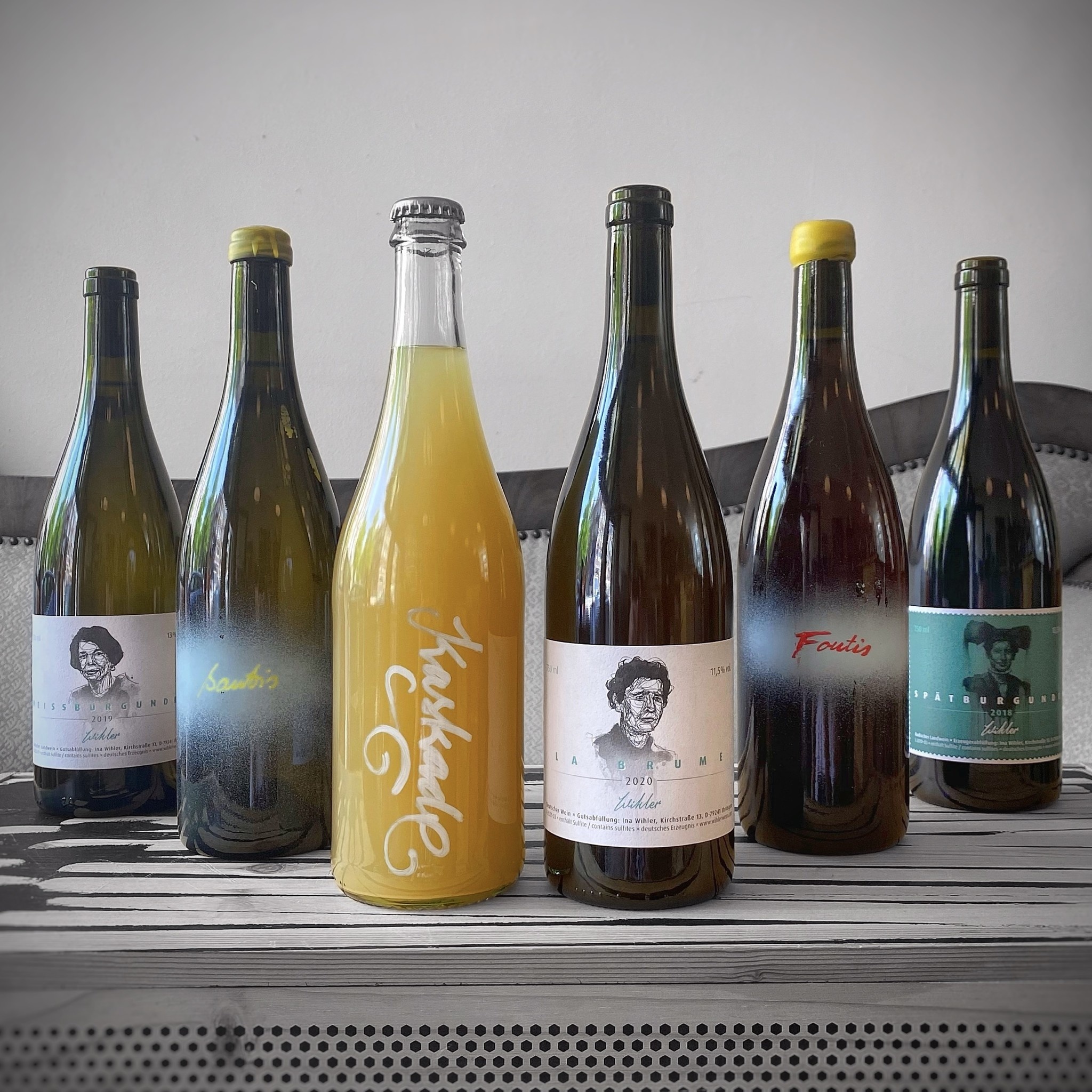 Ever since the death of her grandfather, the women of the family have taken care of the vineyards - their portraits gracing Ina's labels. After graduating from high school, she took over management of the vines and started studying International Wine Industry at Geisenheim University. From the beginning, she had one goal in mind: honouring the family winemaking tradition, but putting her own, decidedly natural twist on it. It results in unique, joyful and dangerously drinkable wines, chock-full of authenticity, energy and depth - which we're very proud of to bring to Amsterdam.
According to Ina, 2020 was a year high in quality, but small in quantity. The fruit consisted of very healthy, small berries that showed perfect ripeness and relatively low sugar levels. Her vineyards haven't seen anything resembling a chemical pesticide or herbicide for 6 years now - and that's starting to pay off, as well as her use of probiotic treatments and the presence of small Ouessant sheep in the vineyard. All this combined has led her to produce a stunning range of natural wines this vintage:

Kaskade 2020: a luscious, gluggable pét-nat that tastes like a pear popsicle on yeasty steroids - amazingly pleasant to drink blend of 90% Müller-Thurgau and 10% Weissburgunder. Manually harvested, spontaneously fermented, bottled unfiltered and unfined, without disgorging and added sulphites - with a lovely hand-signed label. 

La Brume 2020: an insane, idiosyncratic blend of Weissburgunder, Müller-Thurgau and Silvaner, macerated with their skins in an amphora until the end of December, after which a small amount of Cabernet Blanc was added. Manually harvested, spontaneously fermented, bottled unfiltered and unfined, with no sulphites added.
Santis 2020: a ridiculously juicy and seriously cloudy blend of 50% Chardonnay and 50% Müller-Thurgau, brimming with life and joy. Manually harvested, spontaneously fermented, bottled unfiltered and unfined, with no sulphites added. Labeled by hand (using only a spray can and marker), only available in very limited quantities.
 
Fontis 2020:an intricate and deeply intriguing, yet still very drinkable ramato-style Grauburgunder with 10 days of skin contact. Manually harvested, spontaneously fermented, bottled unfiltered and unfined, with no sulphites added. Labeled by hand (using only a spray can and marker), only available in very limited quantities.

Apart from her zero/zero quartet of wines, we also have her 2019 Weissburgunder (spontaneously fermented, matured on its lees in steel tanks and used barrels, bottled unfiltered and unfined, with a small amount of sulphites) and her 2018 Spätburgunder (spontaneously fermented, matured on its lees in one new and several used barriques, bottled unfiltered and unfined, with a small amount of sulphites)