This natural micro-winery has stolen our hearts. Located in Winningen, near Koblenz in Germany's Terrassenmosel, it is run by Robert Kane and Derek-Paul Labelle – an American and a Canadian, who met in 2016 while harvesting in Australia's Barossa Valley. In this vertigo-inducingly steep part of the Lower Moselle, they have made it their mission to restore neglected vineyards to their former glory, deriving their name Madame Flöck comes from the owner of the first plot they purchased. All their vines are dry-farmed, without herbicides and tended entirely by hand. It's time-consuming, back-breaking work, relying on pure elbow grease, but it results in characterful, lively wines. Their Schmetterling summer cuvée is a prime example.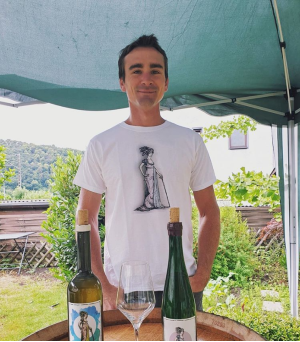 It's a blend of 50% Riesling from the Koberner Weißenberg, with a soil of grey slate, and 50% Müller-Thurgau, from the slate and greywacke-soiled Lehmener Lay. After a manual harvest, 70% of the Müller-Thurgau was foot-stomped, destemmed (by hand!) and loaded into a steel tank with the remaining whole clusters to macerate with the skins and stems for a week, before being pressed and racked into an old hogshead. The Riesling was hand-picked, destemmed and pressed into a steel tank. Both varietals were fermented spontaneously and underwent full malolactic conversion, without additions. After maturation and blending, the wine was bottled unfiltered and unfined, with no sulphites added.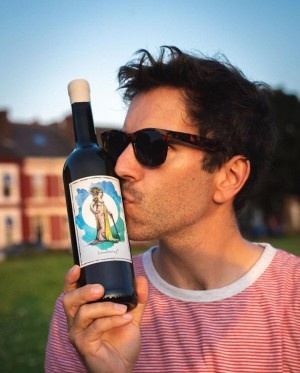 The 2019 vintage has a cloudy golden-yellow color, with a friendly, frisky and fruit-forward bouquet. Aromas of nectarine, pear, baked apple and canned tangerine steal the limelight, followed by beeswax, honey, almond and slate. On the palate it's medium-bodied, with crisp acidity, clean minerality, exceptional texture and a distinct phenolic tug. It's energetic, enveloping, refreshing and deeply drinkable, with an alcohol percentage of only 11.5. Ripe fruit is complemented by zippy citrus, wet slate, grape stem, peach skin and a hint of cardamom, leading into a complex, stony and protracted finish, bursting with notes of zest, pickled ginger and a subtle undertone of fruity yeast.