Jean-François Ganevat is among those producers who really don't need an introduction. Located in the hamlet of La Combe, just below Lons-le-Saulnier, few will dispute his status as king of France's mountainous Jura region. A fourteenth-generation vigneron, his family have been in the grape-growing business since 1650. He trained as a winemaker in Beaune and worked nine years as maître de chai at the renowned Domaine Jean-Marc Morey in Chassagne-Montrachet, before returning to the family estate in 1998 and, almost immediately, converting it to biodynamic viticulture. Famously obsessive about details and showcasing the Jura's terroir, his manifold cuvées have won the hearts of wine lovers all across the world.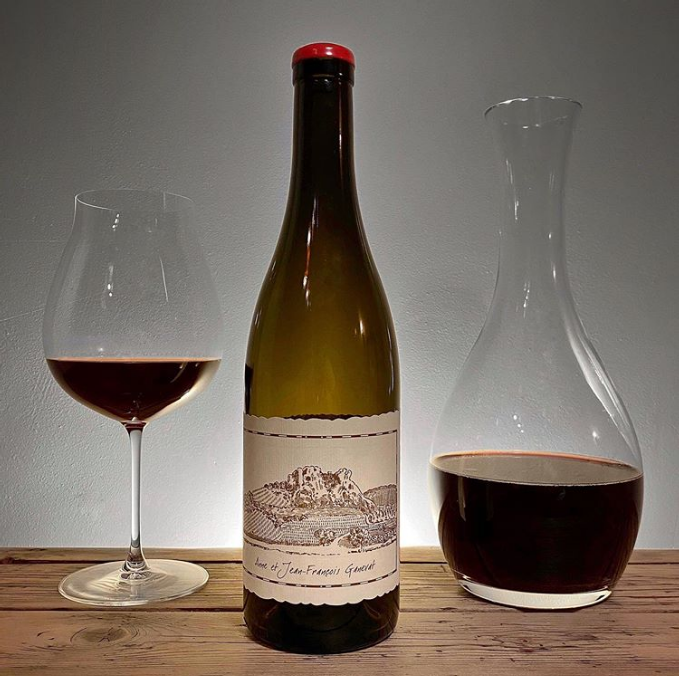 His 'Les Chonchons' Poulsard comes from old vines, planted in 1929, 1941 and 1973. The soil of the vineyard, which Ganevat leases, consists of gray and white marls dating back to the Jurassic and Triassic periods. The grapes were harvested manually, the whole bunches being loaded into a closed cuve for semi-carbonic maceration and fermentation with indigenous yeasts. After the alcohol level reached 5-6%, the cuve was opened to allow the wine to undergo a fairly lengthy further fermentation, the cap being punched down regularly. It was then pressed and aged for a year in old 500L foudres, before being bottled unfiltered and unfined, with no sulphites added.
.
The 2018 vintage has a turbid, light ruby red color with a purple tinge. Its nose is intense, powerfully expressive and reasonably rustic, with a touch of barnyard funk. Aromas of red forest fruit – cherry, raspberry, red currant and cranberry – are followed by undergrowth, rose, cloves, decayed wood and a whiff of leather. On the palate it's light-bodied and elegant, with great tension and balance. Mouthwatering acidity and some fine-grained tannins ensure it's light-footed and accessible, while delivering generosity and depth. Notes of red fruit, green pepper, tree bark and a hint of cacao lead into a long finish filled with dried herbs, earthy notes and a minute yeasty touch.