Elisabetta Foradori has become an icon of Italian natural wine. Located in Mezzolombardo, at the foot of Trentino's Dolomite peaks, the 19-year-old Elisabetta took over the family estate in 1984, after finishing her oenology schooling. In the years following, she radically altered Agricola Foradori's way of winemaking. Assisted by Rainer Zierock, a visionary biochemistry professor from Germany and her later husband, she steered the estate towards biodynamic viticulture, making increasing use of amphorae and producing unique, distinctive wines from indigenous varieties. 'Respect the land and its fertility as you would respect yourself', a quote from Zierock, proudly adorns their back labels.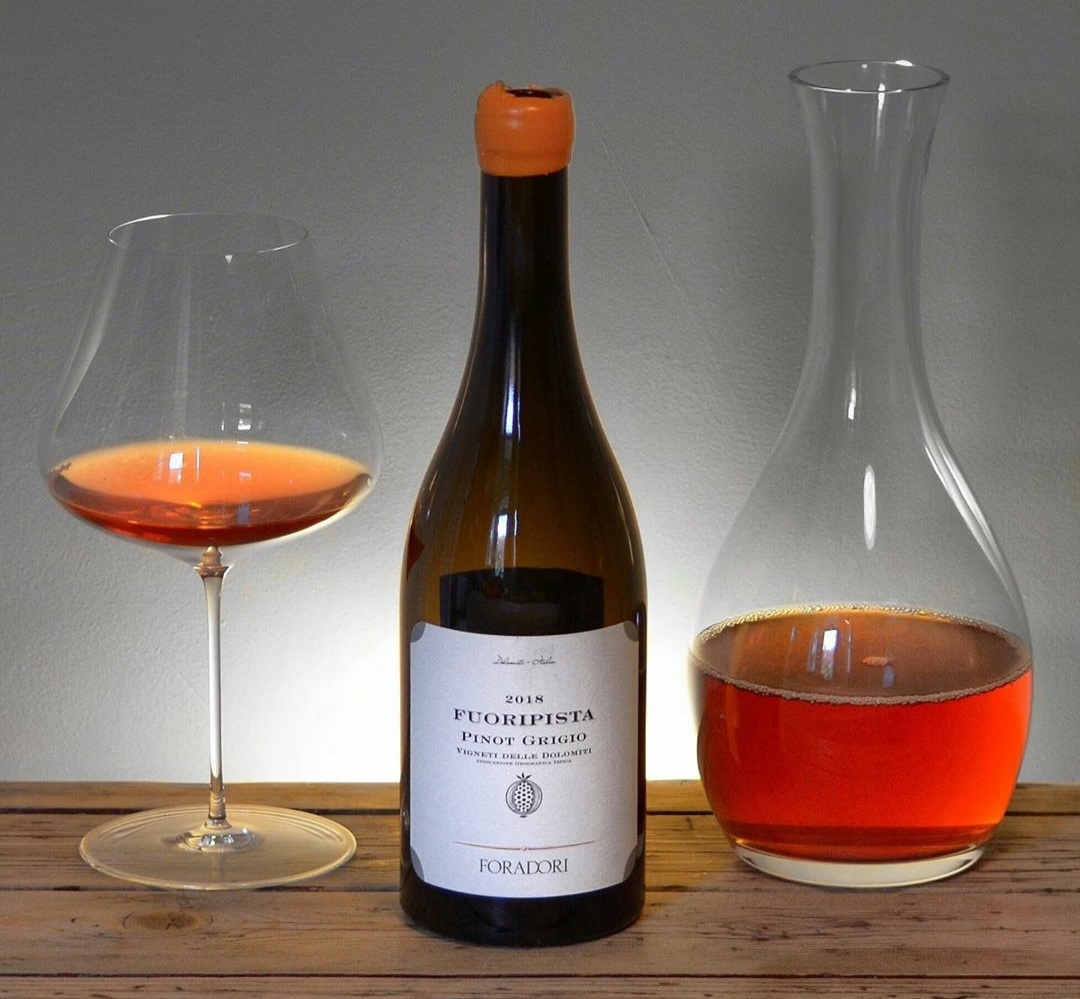 Their 2018 Fuoripista Pinot Grigio is a collaboration with biodynamic vigneron Marco Devigili, who felt that selling his fruit to cooperatives didn't do it justice. The grapes are grown on the sandy, gravelly alluvial soils of the Campo Rotaliano plain, high in altitude and rich in limestone and granite. They're harvested manually and destemmed, after which they're loaded into tinajas – amphora-like terracotta vessels from Spain – to spontaneously ferment and macerate with their skins for 8 months. Afterwards, the wine is racked off the skins and aged 2 months in acacia wood barrels. The wine is then bottled unfiltered and unfined, with a light dose of sulphites added.
.
The 2018 vintage has a watermelon-red color with a brilliant orange tinge. Its bouquet is joyous, lively and layered: aromas of strawberry, peach skin, watermelon and pomegranate are complemented by rosehip, rooibos tea, wet clay, acacia and wild mint. On the palate, it's elegant, exciting and pure, with exceptional texture, minerality and depth. Bright acidity and subtle tannins provide backbone and structure. The frisky fruit is embellished by notes of lime peel, wet rocks and gunpowder tea, resulting in a digestible, refined and graceful wine. The finish is long-lasting, clean and mineral-laden, with crisp red fruit, clay and dried herbs.
.
Foradori's Fuoripista is available at Wijnhuis.Amsterdam. Come by the shop, give us a call or order via our website!